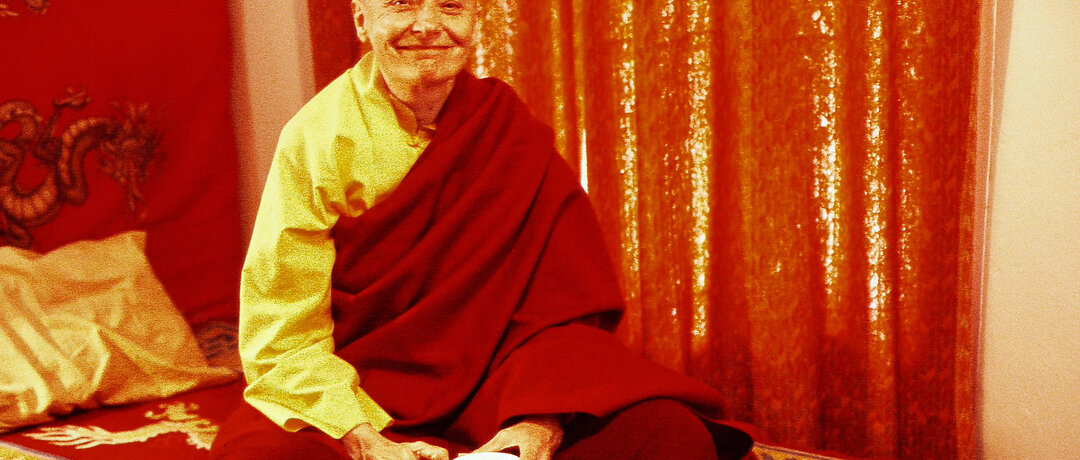 Article
Jetsunma Tenzin Palmo
On the outskirts of Tashi Jong, three hours north of Dharamsala, sits the Dongyu Gatsal Ling Nunnery where Jetsunma Tenzin Palmo lives and teaches a community of young Tibetan nuns of the Drukpa Kagyu lineage. Unlike the other Buddhists we have met and interviewed so far, Jetsunma is not a Tibetan refugee but a unique individual who willingly left her London home to pursue her spiritual path. In 1964, at age 20, she arrived in India at a remarkable time, when High Tibetan lamas were just arriving from Tibetan monasteries, escaping the Communist Chinese.
During that time Jetsunma Tenzin Palmo met her teacher, His Eminence the 8th Khamtrul Rinpoche, a Drukpa Kagyu lama, and she became one of the first Westerners to be fully ordained as a Tibetan Buddhist nun. Starting in 1976, Jetsunma spent 12 years in solitude in a Himalayan cave meditating and doing specific yogic practices given by her teacher.
Before he passed away, her teacher instructed her to build a nunnery and in 1993 she began the task of raising money, finding land, and starting construction. In 2007, Dongyu Gatsal Ling Nunnery remains unfinished, but already young nuns live and study there. The nunnery hopes to revive the ancient Togdenma tradition, which demands "long, rigorous, and austere practices, requiring many years in retreat in order to attain enlightenment in one lifetime." Already some nuns aspire to be trained in this ascetic yogic path! When completed, it will support 80 nuns.
When we arrived at Dongyu Gatsal Ling Nunnery, we were invited into Jetsunma Tenzin Palmo's one room apartment. Sitting cross-legged on her bed, she candidly shared her thoughts and opinions with us, offering a less optimistic view about the fate of the world than we had previously heard from other Tibetan Buddhists. She talked bluntly about how everything is now commercialized, including spirituality, and while she hoped to see a global shift in consciousness she felt such a shift was unlikely. "People are just too unwilling to let go of their attachments and ego, especially now with all the new comforts we have acquired. I mean do you really expect all of Asia to give up its cars, washing machines, TV's and fridges? Maybe if America does it first, but don't expect that to happen anytime soon."