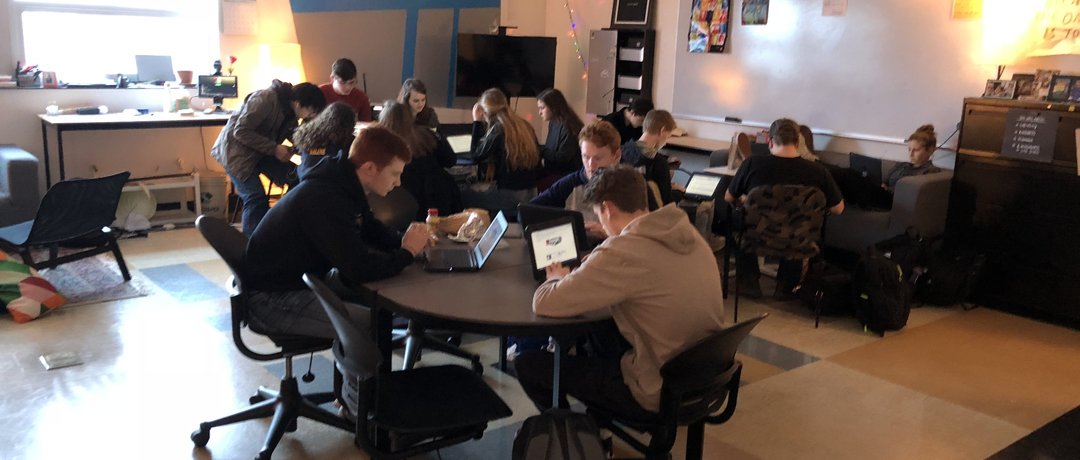 Blog
The Power of Multimodal Art and Film to Engage Students
Ray Bradbury's Fahrenheit 451 is the book that turned me into a teacher. I loved it as a rebellious teen and I grew to appreciate its depth as I re-read it as a college student and later as a teacher. I dreamed of teaching it, of inspiring my students to question, resist, and grow into their own sense of the world and their place in it. When I teach it now, my students immediately see the way Bradbury used the novel's characters to mirror our own increasingly technology-driven and seemingly empty society.
This past fall, as I was reviewing my students' culminating projects that took their purpose from our study of the novel, I fully realized my own dissatisfaction with the way I was teaching the novel--as a work of speculative fiction, which predicts a too-close-for-comfort future in which humans (presumably Americans) are unknowingly disenfranchised by the very technologies and habits of living which previously made their lives enjoyable and even livable.
My students' projects read into this future and responded by identifying ways to ensure we never made it to that point. But, despite my own attachment to the novel, I have long been uncomfortable with centering the experience of the privileged as one which will in the future be undone by technology. The reality is that so many other lives have already been (and are currently being) erased by modernity.
My students collaborated to investigate not only the individual stories that they were assigned but the larger meta-issues that might affect more communities around the world.
The Global Oneness Project is the resource that first ignited the thought that I could reverse the way I was teaching Fahrenheit 451 to evaluate currently disenfranchised communities rather than speculating around those who might lose a voice in the future. I had never used the resources on the site before, but I had been connected with the work through my professional learning network (PLN), specifically my #TeachSDGs network. I happened upon the lesson plan "Recording a Dying Language" which features the film called Marie's Dictionary about Marie Wilcox and her efforts to create a dictionary to preserve the Wukchumni language, of which she is the sole remaining speaker. Her story blew my mind - here I am using Bradbury to talk to my students about the dangers of losing cherished literature when Wilcox and her community have nearly lost their entire language.
I immediately saved Marie's story and committed myself to using it to discuss loss in a new way as we read Bradbury's novel. I later found the lesson plan "Ancient and Modern Worlds" and paired film A Thousand Suns, which introduced me to the concept of endangered cultures and provided me with the inspiration for a new project in which students would investigate indigenous cultures that are currently experiencing loss, interrogate the causes which threaten their ways of life, and design ways to support revitalization.
I can't count how many times I have generated what I think will be an amazing lesson or unit, only to run out of time for planning or not find exactly the right materials I'm looking for, and I end up not getting the impact I intended. When I began digging into Global Oneness Project, I had exactly the opposite experience - I found everything I had hoped for and more. Before I knew it, I had a full playlist of films and photo essays ranging from "Yukon Kings" to "Kara Women Speak" and "La Carretera".
We watched A Thousand Suns together as a class and, with the help of the complete discussion guide, worked through complex questions about modernity, technology, and progress as they collide with indigenous wisdom and the beauty of whole worlds that have been all but left behind by those of us in the "first world." My students were eager to discuss all sides of the subject (especially with the comparisons we were able to draw to Wakanda and Black Panther. That's for another post). With this foundation, I grouped my students and invited them to choose a story from a playlist that I had curated with films and photo essays from the Global Oneness Project about endangered indigenous and cultural groups from around the world.
The Global Oneness Project was founded on the idea that stories have the power to connect us to communities and issues around the world and to inspire thinking and action in response to these stories. As my students dove into their chosen stories, I saw this power firsthand. My students collaborated to investigate not only the individual stories that they were assigned but the larger meta-issues that might affect more communities around the world. They researched these issues and crafted engaging and deeply critical infographics which amplified the stories and proposed solutions or ways to become involved with the issues.
I've never been more convinced of the potential of Project Based Learning (PBL) and performance-based assessments - and what's more, I've never been more convinced of the power of multimodal art and film to engage students and cultivate dialogue and meaning in the classroom.
My students effectively analyzed the storytelling elements in the films, which helped me to assess the more "literary" standards in the CCSS; the films also engaged students in a relevant, meaningful reality which they could research and then demonstrate their abilities in terms of nonfiction research and analysis. They demonstrated their attention to the research and production process by working through the analysis of the Global Oneness Project text, their investigation of the context and meta-issue that they found significant, and their production of a dynamic and powerful infographic with the purpose of telling a story and advocating for change. Oh, and they presented it all to an audience with additional visuals and discussion.
In Fahrenheit 451, Bradbury writes that "we need to be really bothered once in a while." Stories can give us this perspective as they have the power to challenge our assumptions. I am grateful to the Global Oneness Project for providing stories that connect my students to real, current issues around the globe because they are the ones who will be creating the change.
Matt Hamilton is a high school ELA teacher and diversity council advisor working in Saline, Michigan. He uses his 21st-century learning space and technology to engage and empower students to grow into creative thinkers and designers who can think critically about having a positive impact in a global world. He is on Twitter and Instagram @mhamiltonedu.